Greetings, we are out of Hollywood and in Hawaii.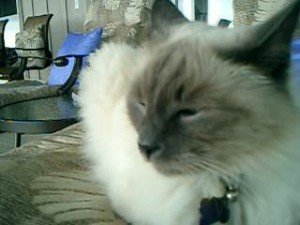 With luck we may return in time.
In time for what, I am not sure.
The creature is back in Kona. The radiation did not kill him. It made him stronger and extremely dangerous to the entire human race.
As you know, I pledged to write, direct and produce a major documentary, THE TERRIBLE KAT OF KONA (c), here in Kona.
The budget was fifteen cents (15¢) and it is suitable for cell phone viewing.
You of course may watch THE TERRIBLE KAT OF KONA (c) on the big screen. Your laptop.
The critics are abuzz with accolades.
The film started out as a full length feature but I managed to edit it to 22 seconds.
It's frightening — so watch it with a paramedic. It could trigger a heart attack.
(Note in the film the Kat is in disguise. More of this later.)
Yet, THE TERRIBLE KAT OF KONA (c) is a story that speaks to the souls of both man and animals.
Or if you wish, the souls of woman and the same animals.
Twelve cents (12¢) of the budget was for a single shot of the cat that I took with my cell phone and then texted to my computer. (I do not have the unlimited text messaging package yet.)
The additional three cents (3¢) was returned to the investors.
regards,
jaron
Note:
We have completed the FINANCIAL audit of the feature film, THE TERRIBLE KAT OF KONA (c), and in our opinion the producer has complied with standard accounting practices for federal and state laws.
This is an opinion and is based on certain receipts that we have not fully examined. Therefore, this audit is not legally binding in a court of law or even in a street brawl. Deloitte & Touch & Go.
A further Note:
No animals were harmed in THE TERRIBLE KAT OF KONA (c) other than the cat and its six doubles. It turned out only one of them could actually survive a 15-story fall. It appears the Kat of Kona survived.
PEETA Directors
THE TERRIBLE KAT OF KONA (C)
Producer's Pledge:
Although, we are under siege from certain fanatical animal rights groups, we will continue to create very-low, extra-cheap feature films on the attempts of the Kona Kat to rule this planet.
To read more about the Kona Kat please click here. What we have discovered could result in the end of the human race and a shortage of avocados.